7 months ago · 5 min read
Train Station Platform Security
Millions of people use public transport on a daily basis. Train stations are the entry point to mobility. Protecting customers, avoiding crowded platforms and keeping narrow passages clear are challenges which public transport providers face every day.
Security by design
Providing high security to passengers, train stations require careful design of processes, communication and interaction workflows and buildings and platforms. Undergoing continuous reevaluation ensures that measures are adequate even if conditions change.
Process design
Automated and clearly defined processes increase safety tremendously. Alarms can be either configured to directly trigger an action or require human evaluation before an action is taken.
Typical systems in that field are fire alarm systems, intrusion alarm system and access control systems.
Communication and interaction workflow design
Communication and interaction workflows are a subset of process design which address the passenger directly.
Clear and precise communication helps to prevent panic and thereby increases safety. Announcements can be either automated or manually created.
Building and platform design
The architecture of train stations and train station platforms is crucial for its safety. Passenger density often isn't equally distributed. In front of escalators, within narrow passages or around stores, density can be significantly higher than elsewhere. The evaluation of the platform architecture therefore requires a in-depth analysis.
Besides the appropriate size and placement of escalators and elevators additional building elements such as barriers between platform and rails increase security by preventing passengers from falling onto the rails.
Increasing security with video analytics
Utilizing security cameras on train station platforms Isarsoft solutions can measure the number of passengers waiting.
Platform utilization measurements can be used to allocate security personal flexibly, schedule construction and maintenance works as well as to design and redesign the platform architecture and verify the correct placement of on-platform stores.
Creating custom alarms helps to react to events such as intrusion, unattended luggage or crowded platforms.
Simple to setup
After installing the Isarsoft Server in your datacenter, setting up Isarsoft video analytics can be done with a few clicks.
The Isarsoft Dashboard can be accessed from any Browser such as Safari, Chrome, Firefox or Internet Explorer. It works for all devices such as Desktop, Tablet and Mobile. For the purpose of adding an IP-camera the RTSP-URL of that camera needs to be entered.
After that applications such as counting line and utilization count applications can be added by either adjusting a line or rectangle. Using the drag-and-drop interface this is a matter of seconds.
Powerful standalone solution
The Isarsoft Dashboard comes with the right analytics onboard. It allows to identify micro and macroscopic patterns depending on the requested time frame. The time frame selection has predefined intervals such as last day, last 14 days or last year but also allows for custom queries which allow to evaluate smaller intervals in the past. Multiple applications from multiple cameras can be selected to obtain aggregate statistics.
The image below shows data for a large period of time, providing evidence that in and outflow of passengers changes heavily over time. The traffic at certain days is significantly higher than on average days.
External post processing & system integration
Isarsoft video analytics comes with a GraphQL-API and an Interface for Excel exports.
The GraphQL-API allows to pull the counting data into other systems for further processing.
Use-cases could be sending data to a centralized data lake, integrating counting data into customer apps or to combine usage data with sensor information from escalators and elevators to improve maintenance predictions.
Data-Scientist can also use the API to produce datasets to train custom machine-learning models for prediction of usage.
Reference Project: Subway of Munich, Germany
Isarsoft solutions are used by transport companies with the highest demands on accuracy, performance and service quality.
Patrick Chuh, project manager and responsible for the planning of the video technology at the Münchner Verkehrsgesellschaft (MVG) says about Isarsoft: "The solutions of lsarsoft GmbH help us as MVG to observe the utilization of our infrastructure, to determine the number of passengers and ultimately to increase customer-satisfaction.
In demanding application scenarios such as the Oktoberfest, Isarsoft solutions have proven to be very helpful in daily operations. Particularly noteworthy are the high counting accuracy and the quick setup of our existing camera systems."
MVG is a public transport company and the operating company for subway, tram and bus services in Munich. As the parent company of MVG, Stadtwerke München (SWM) is responsible for the safe transport of around 600 million passengers a year. For this purpose, the entire network with a total route length of over 100 kilometers as well as the vehicle fleet with 300 buses, over 100 trams and almost 600 subway wagons must be managed and appropriately serviced. MVG's services are integrated into the Munich Transport and Tariff Association (MVV), of which the City of Munich is a stakeholder.
The Oktoberfest, also known as Wiesn, is the world's largest folk festival. Over a period of two weeks, several million visitors from all over the world come to Munich to enjoy Bavarian beer and the unique atmosphere and culture at the Theresienwiese. The MVG transports a large proportion of visitors to and from the festival grounds. The Theresienwiese underground station (U4 / U5) is particularly crowded in the evenings on Friday and Saturday evenings. The frequency is three minutes at peak times.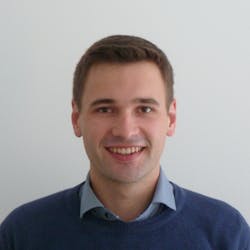 Oskar Haller
CEO & Co-founder
Got Questions?
Our #1 core value is customer service.